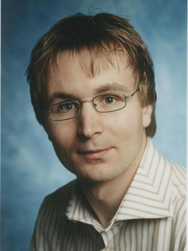 Stephan Sigg
mail: Telecooperation Office, Vincenz Prießnitzstr. 3, 76131 Karlsruhe, Germany
email: siqq@teco.edu
fon: +49 (721) 464704-12
fax: +49 (721) 96634187

Since April 2010 I am with the chair for Pervasive Computing at the KIT under the supervision of Prof. Dr.-Ing Michael Beigl. My research interests include the design, analysis and optimisation of algorithms for context prediction, distributed and ubiquitous systems and collaborative transmission in Wireless sensor networks.
Currently, I am engaged with the National Institute of Informatics (NII) in Tokyo, Japan in the group of Prof. Yusheng Ji.
Most recent information is found here
Short CV:
Courses
Lectures
Algorithms for context prediction in Ubiquitous systems WS0809 (at TU Braunschweig)
Exercises
Practical trainings
Seminars
Thesis and student work
Are you interested in the research branch and are considering writing a thesis at our institute?
In these cases please contact me via Email. We constantly discuss intriguing research questions but do not formulate all of these right away as thesis proposal. Also, if you have your own research idea I would much like to discuss it with you.
Projects
ContextAsAKey - Utilisation of context information to ensure privacy between communicating applications.
Activities:
TPC member of the HeterWMN: Workshop on Heterogeneous, Multi-Hop, Wireless and Mobile Networks in conjunction with the IEEE GLOBECOM 2010 conference , December 6-10, 2010, Miami, Florida, USA
TPC member of the 4th IEEE International Workshop on Performance Modeling and Evaluation of Computer and Telecommunication Networks (PMECT 2010), August 2-5, 2010, Zurich Switzerland
Workshop co-chair of the 1st Workshop on Context-Systems Design, Evaluation and Optimisation (CoSDEO 2010), February 23rd 2010, Hannover, Germany
TPC member of the 7th International Conference on Ubiquitous Intelligence and Computing (UIC 2010), October 26 - 29 2010, Xi'an, China
TPC member of the 5th International Conference on Mobile Ad-hoc and Sensor Networks (MSN 2009), December 14 - 16 2009, Wu Yi Mountain, China
Reviewer for the IEEE Internet Computing magazine, special issue on Internet of Things (ICSI-2009-05), 2009
Reviewer for the 7th Annual International Conference on Mobile Systems, Applications and Services (MobiSys 2009), June 22 - 25, Krakow, Poland
Reviewer for the IEEE Communications Letters (CL2006)
Reviewer for the 16th Annual IEEE International Symposium on Personal Indoor and Mobile Radio Communications (PIMRC 2005), September 11 - 14 2005, Berlin, Germany
Publications:
2012
Stephan Sigg, Ngu Nguyen, An Huynh and Yusheng Ji: AdhocPairing: Spontaneous audio based secure device pairing for Android mobile devices, in Proceedings of the 4th International Workshop on Security and Privacy in Spontaneous Interaction and Mobile Phone Use, in conjunction with Pervasive 2012, 2012
Stephan Sigg and Dominik Schuermann: Secure communication based on ambient audio, in IEEE Transactions on Mobile Computing (TMC), 2012 (Accepted for publication)
Stephan Sigg, Dawud Gordon, Georg von Zengen, Michael Beigl, Sandra Haseloff and Klaus David: Investigation of context prediction accuracy for different context abstraction level, in IEEE Transactions on Mobile Computing (TMC), 2012 (DOI)
Ngu Nguyen, Stephan Sigg, An Huynh and Yusheng Ji: Pattern-based Alignment of Audio Data for Ad-hoc Secure Device Pairing, in Proceedings of the 16th annual International Symposium on Wearable Computers (ISWC), 2012
Ngu Nguyen, Stephan Sigg, An Huynh and Yusheng Ji: Using ambient audio in secure mobile phone communication, in Proceedings of the 10th IEEE International Conference on Pervasive Computing and Communications (PerCom), WiP session, 2012
Predrag Jakimovski, Hedda R. Schmidtke, Stephan Sigg, Leonardo Weiss, Ferreira Chaves and Michael Beigl: Collective Communication for Dense Sensing Environments, in Journal of Ambient Intelligence and Smart Environments (JAISE), 2012
2011
Markus Scholz, Stephan Sigg, Hedda Schmidtke and Michael Beigl: Challenges for device-free radio-based activity recognition, in Proceedings of the 3rd Workshop on Context Systems Design Evaluation and Optimisation (CoSDEO), 2011
Markus Scholz, Stephan Sigg, Dimana Shihskova, Georg von Zengen, Gerrit Bagshik, Toni Guenther, Michael Beigl and Yusheng Ji: SenseWaves: Radiowaves for context recognition, in Video Proceedings of the 9th International Conference on Pervasive Computing (Pervasive 2011), 2011 (Video,PDF)
Stephan Sigg, Dominik Schuermann and Jusheng Ji: PINtext: A framework for secure communication based on context, in Proceedings of the 8th International ICST Conference on Mobile and Ubiquitous Systems (MobiQuitous 2011), 2011
Johannes Starosta, Markus Reschke, Sebastian Schwarzl, Stephan Sigg and Michael Beigl: Context awareness through the RF-channel, in 2nd workshop for Context Systems Design and Evaluation (CoSDEO) in conjunction with 5th Conference on Architecture for Computing Systems (ARCS), 2011
Stephan Sigg, Rayan Merched El Masri and Michael Beigl: Feedback based closed-loop carrier synchronisation: A sharp asymptotic bound, an asymptotically optimal approach, simulations and experiments, in IEEE Transactions on Mobile Computing (TMC), 2011 (DOI)
Stephan Sigg, Predrag Jakimovski, Florian Becker, Hedda Schmidtke, Martin Alexander Neumann, Yusheng Ji and Michael Beigl: Neuron-inspired collaborative transmission in wireless sensor networks, in Proceedings of the 8th International ICST Conference on Mobile and Ubiquitous Systems (MobiQuitous 2011), 2011
Stephan Sigg: Context-based security: State of the art, open research topics and a case study, in Proceedings of the 5th ACM International Workshop on Context-Awareness for Self-Managing Systems (CASEMANS 2011), 2011 (DOI)
Stephan Sigg, Matthias Budde, Yusheng Ji and Michael Beigl: Entropy of audio fingerprints for unobtrusive device authentication, in Poster Proceedings of the 7th International and Interdisciplinary Conference on Modeling and Using Context (Context2011), 2011 (Online)
Stephan Sigg, Michael Beigl and Behnam Banitalebi: Efficient adaptive communication from resource restricted transmitters, In Organic Computing - A Paradigm Shift for Complex Systems, Christian Mueller-Schloer and Hartmut Schmeck and and Theo Ungerer, Springer, 2011 (Online)
Stephan Sigg and Michael Beigl: An adaptive protocol for distributed beamforming, in 17. Fachtagung 'Kommunikation in Verteilten Systemen 2011' (KiVS11), 2011 (PDF)
Markus Reschke, Johannes Starosta, Sebastian Schwarzl and Stephan Sigg: Situation awareness based on channel measurements, in 4th conference on context awareness for proactive systems (CAPS), 2011 (DOI)
Predrag Jakimovski, Florian Becker, Stephan Sigg, Hedda R. Schmidtke and Michael Beigl: Collective Communication for Dense Sensing Environments, in 7th IEEE International Conference on Intelligent Environments (IE), 2011 (**Best paper**) (DOI)
Dawud Gordon, Stephan Sigg and Michael Beigl: Using Prediction to Conserve Energy in Recognition on Mobile Devices, in 9th IEEE International Conference on Pervasive Computing and Communications (PerCom), WiP session, 2011 (DOI)
Behnam Banitalebi, Dawud Gordon, Stephan Sigg, Takashi Miyaki and Michael Beigl: Collaborative Channel Equalization: Analysis and Performance Evaluation of Distributed Aggregation Algorithms in WSNs, in Proceedings of the 8th IEEE International Conference on Mobile Ad-hoc and Sensor Systems (IEEE MASS 2011), 2011 (DOI)
2010
Stephan Sigg and Michael Beigl: Distributed adaptive expectation aware in-network context processing, in Fourth ACM International Workshop on Context-Awareness for Self-Managing Systems, 2010 (DOI)
Behnam Banitalebi, Stephan Sigg and Michael Beigl: Performance analysis of receive collaboration in TDMA-based Wireless Sensor Networks, in Proceedings of the fourth International Conference on Mobile Ubiquitous Computing, Systems, Services and Technologies (Ubicomm), October 2010 (PDF)
Behnam Banitalebi, Stephan Sigg and Michael Beigl: On the Feasibility of Receive Collaboration in Wireless Sensor Networks, in Proceedings of the 21st annual IEEE Symposium on Personal, Indoor and Mobile Radio Communications, March 2010 (DOI)
Stephan Sigg: Optimisation of a three stage cooling process, Master's Thesis, FernUniversitaet in Hagen, Februar 2010
Rayan Merched El Masri, Stephan Sigg and Michael Beigl: An asymptotically optimal approach to the distributed adaptive transmit beamforming in wireless sensor networks, in Proceedings of the 16th European Wireless Conference, April 2010 (DOI)
Niklas Klein, Stephan Sigg, Klaus David and Michael Beigl: DAG Based Context Reasoning: Optimised DAG Creation, in Proceedings of the first Workshop on Context-Systems Design, Evaluation and Optimisation, February 2010
Stephan Sigg, Klaus David and Sandra Haseloff: An Alignment Approach for Context Prediction Tasks in UbiComp Environments, in IEEE Pervasive Computing, PrePrints, Los Alamitos, CA, USA, IEEE Computer Society, 2010 (DOI)
2009
Stephan Sigg, Rayan Merched El Masri and Julian Ristau Michael Beigl: Limitations, performance and instrumentation of closed-loop feedback based distributed adaptive transmit beamforming in WSNs, in Fifth International Conference on Intelligent Sensors, Sensor Networks and Information Processing - Symposium on Adaptive Sensing, Control, and Optimization in Sensor Networks, 2009 (DOI)
Stephan Sigg and Michael Beigl: Algorithmic approaches to distributed adaptive transmit beamforming, in Fifth International Conference on Intelligent Sensors, Sensor Networks and Information Processing - Symposium on Theoretical and Practical Aspects of Large-scale Wireless Sensor Networks, 2009 (DOI)
Stephan Sigg and Michael Beigl: Algrithms for closed-loop feedback based distributed adaptive beamforming in wireless sensor networks, in Fifth International Conference on Intelligent Sensors, Sensor Networks and Information Processing - Symposium on Adaptive Sensing, Control, and Optimization in Sensor Networks, 2009 (DOI)
2008
Stephan Sigg and Michael Beigl: Randomised Collaborative Transmission of Smart Objects, in 2nd International Workshop on Design and Integration Principles for Smart Objects (DIPSO2008) in conjunction with Ubicomp 2008, September 2008 (PDF)
Stephan Sigg, Daniel Roehr, Monty Beuster and Michael Beigl: Audio Fingerprinting in UbiComp Environments - Performance Measurements and Applications, in Proceedings of the fifth International Conference on Networked Sensing Systems (INSS'08), Juni 2008
Stephan Sigg, Monty Beuster, Daniel Roehr and Michael Beigl: Search Space Size and Context Prediction, in Proceedings of the fifth International Conference on Networked Sensing Systems (INSS'08), June 2008
Stephan Sigg: Ein Vergleich von Varianten endlicher Quantenautomaten - Eine algorithmenorientierte Analyse, VDM Verlag, March 2008
Stephan Sigg: Development of a novel context prediction algorithm and analysis of context prediction schemes, University of Kassel, Chair for Communication Technology, ComTec, February 2008 (DOI)
Stephan Sigg and Michael Beigl: Collaborative Transmission in Wireless Sensor Networks by a (1+1)-EA, in Proceedings of the 8th International Workshop on Applications and Services in Wireless Networks (ASWN'08), 2008(DOI)
Daniel Roehr, Michael Beigl, Monty Beuster, Stephan Sigg, Christian Decker, Till Riedel and Martin Berchtold: Developing a Virtual Environment for better Sensory Perception, in Fifth International Conference on Networked Sensing Systems. June 17 - 19, 2008, Kanazawa, Japan, 2008 (DOI)
2007
Stephan Sigg, Sandra Haseloff and Klaus David: A Study on Context Prediction and Adaptivity, in Proceedings of the International Workshop on Context Modeling and Management for Smart Environments (CMMSE'07), October 2007 (DOI)
Stephan Sigg, Sandra Haseloff and Klaus David: Prediction of Context Time Series(PDF), in Proceedings of the 5th Workshop on Applications of Wireless Communications (WAWC'07), J. Ikonen and M. Juutilainen and J. Porras, Seite 31-45, August 2007
Stephan Sigg, Sian Lun Lau, Sandra Haseloff and Klaus David: Approaching a Definition of Context Prediction, in Proceedings of the Third Workshop on Context Awareness for Proactive Systems (CAPS'07), June 2007
Stephan Sigg, Sandra Haseloff and Klaus David: Minimising the Context Prediction Error, in Proceedings of IEEE 65th Vehicular Technology Conference VTC2007-Spring (VTC-2007 Spring), April 2007 (DOI)
2006
Stephan Sigg, Sandra Haseloff and Klaus David: A novel approach to context prediction in ubicomp environments, in Proceedings of the 17th Annual IEEE International Symposium on Personal, Indoor and Mobile Radio Communications (PIMRC 2006), September 2006 (DOI)
Stephan Sigg, Sandra Haseloff and Klaus David: The Impact of the Context Interpretation Error on the Context Prediction Accuracy, in Proceedings of the 3rd Annual International Conference on Mobile and Ubiquitous Systems: Networks and Services (MOBIQUITOUS 2006), July 2006(DOI)
Stephan Sigg, Sandra Haseloff and Klaus David: Context Prediction by Alignment Methods, in Poster Proceedings of the 4th International Conference on Mobile Systems, Applications, and Services (MobiSys 2006), June 2006 (PDF)
Tino Loeffler, Stephan Sigg, Sandra Haseloff and Klaus David: The Quick Step to Foxtrot, in Proceedings of the Second Workshop on Context Awareness for Proactive Systems (CAPS 2006), Klaus David and Olaf Droegehorn and Sandra Haseloff, Kassel University press, June 2006 (Online)
Stephan Sigg and Klaus David: Optimum Resource Allocation in HSDPA, in Proceedings of the 12th European Wireless Conference: Enabling Technologies for Wireless Multimedia Communications (EW 2006), April 2006 (PDF)
Stephan Sigg, Tino Loeffler, Sandra Haseloff and Klaus David: A Flexible Architecture For Context Aware Applications, in Workshop: Selbstorganisierende, adaptive und kontextsensitive Systeme (SAKS), 2006
2004
Stephan Sigg: Ein Vergleich verschiedener Varianten endlicher Quanten-Automaten, Master's Thesis, University of Dortmund, August 2004